When it comes to performance tyres for your vehicle, sometimes big really is better.
JAX Tyres specialise in ensuring that the tyres we fit are not only the safest and most appropriate tyre options for your vehicle, but that they suit the needs of you and your specific on and off road activities, in accordance with local legislation.
But if your vehicle is a little more than just something you use to get from A to B, your thoughts may turn to choosing wider tyres, which fit larger diameter wheels that will meet your performance goals.
Enter the world of Plus Sizing.
Big is Beautiful
Plus Sizing your tyres, basically means installing tyres on to your vehicle that have a larger wheel diameter than the standard tyre fitment, while retaining the overall rolling radius the same, which is achieved by reducing the tyre profile.
Sound a bit complicated?
Stick with us and we'll break it all down for you.
A few years ago, tyre Plus Sizing was a realm it seemed only the most dedicated and performance-minded car buffs among us knew much about.
But at JAX Tyres, we can think of plenty of reasons why up Sizing could be a tyre option to suit many, and we pride ourselves on meeting your Plus Sizing needs professionally and safely.
The Thick and Thin of Plus Sizing
Plus Sizing your tyres can be also referred to as stepping up.
So if your standard fitment was a 15 inch wheel, a Plus One tyre would be 16 inch and a Plus Two would be 17 inch etc.
The diagram below shows the permissibile conversion from a 15" through to a 20" tyre.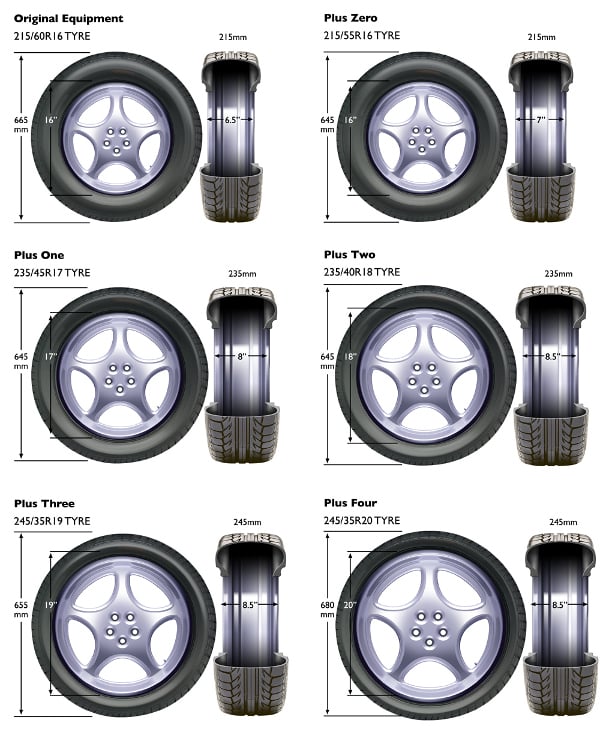 While it may sound simple just to increase the diameter of your wheels, as you step up size notches, attention must be paid to the Aspect Ratio of the tyre too.
A tyre's aspect ratio is the percentage that refers to the relationship of the height of the tyre's sidewall to its width.
The lower the figure, the greater a tyre's section width. The importance here is to ensure that the wider tyre does not intefere with any of the vehicle's body parts. A wider tyre will provide you with increased grip and better braking performance but if it comes into contact with any mechanical part of the vehicle, this is dangerous and could compromise the safety of you and other road users.
Professional Plus Sizing is a Must
If the mathematics of tyre Plus Sizing is making your head spin, don't despair - JAX Tyres's qualified tyre professionals will handle these considerations for you.
All you have to do is to consider the diameter of the wheel you want to Plus Size and what results you're looking to achieve.
When it comes to working out how much to Plus Size your tyres and the performance outcomes you can expect, it pays to first consider what you're hoping to gain from your Plus Sizing experience.
The Pros of Plus Sizing
As we mentioned earlier, you don't have to be a performance driver to benefit from tyre Plus Sizing.
Put simply, Plus Sized tyres can improve the handling of your car!
Each Plus Size level you move up will lessen the amount of tyre to rigid alloy - this means your tyre tread sits more squarely on the road and your car will respond better to your responses when braking or accelerating.
A professionally Plus Sized vehicle - as you would expect from a JAX Tyres Tyre dealer - will also ensure that speedometer and odometer accuracy is kept in the same, it might even be improved, and in most cases vehicles with Plus Sized tyres certainly look more visually appealing.
Considering the above, you can see that the two main reasons why people opt for Plus Sized tyres are:
Plus Sized performance
When it comes to maximising the performance of your vehicle, it makes sense that your wheels will be one of the first considerations you make.
It doesn't take a automotive expert to understand that a wider tyre offers greater traction & grip on the road, but there is also the benefit of the shorter tyre sidewall it provides. For those not in the know, a tyre's sidewall is where numbers and letters, which make up the international identification system for tyres, are presented.
The sidewall numbers and letters will normally tell you the tyre's:
Brand - The company that manufactured the tyre
Series - The manufacturer will create a series of tyres that differ in terms of performance and handling characteristics
Model - This takes into account the tyre's construction, tread design and ride
Width - Important when Plus Sizing - this number will tell you the width of the tyre in millimetres.
Aspect Ratio - The height of the tyre sidewall from the rim to the tread - expressed as a percentage.
Speed Rating - The maximum speed the tyre is designed to travel at a given load
Load Rating - The maximum load the tyre is designed to carry at a desiginated maximum speed.
Customers who choose to Plus Size their tyres may have also heard about the benefits of getting the shortest sidewall height possible.
A shorter sidewall will produce crisper handling and better steering, but if the sidewall is too short the tyre can become overly "stiff" and can potentially make for a harsher ride for drivers and passengers.
For Example: A Plus One Plus Size would mean your wheel rim is half an inch closer to the ground than your Standard tyre size.
A Plus Two Plus Size would place your wheel rim 1 inch closer to the ground than your Standard tyre size.
Plus Sized Appearance
Have you ever pulled up next to a car at the lights and remarked at how sporty or extreme it looked?
Pay more attention to its tyres next time - it's likely that the tyre fitments are plus sized!
While we don't suggest you think solely about appearance when deciding if Plus Sizing your tyres is an idea for your vehicle, there is no doubt that Plus Sized tyres can provide an edgier look for vehicles. This is usually because of the shorter sidewall, which means the rim is closer to the bitumen than normal.
Just remember - the team at JAX Tyres are tyre experts. Trust your local JAX Tyres to supply you with all of the knowhow, information and products that you will need to achieve the performance and appearance outcomes that you desire by fitting Plus Sized tyres to your vehicle.
Plus sized precautions
There are a few considerations you should make when Plus Sizing the tyres on your vehicle, and of course, always chat to a qualified team member at your local JAX Tyres about any concerns you may have.
Keep in mind:
A shorter tyre sidewall would mean the wheel rim is closer to the road - imagine what might happen if you hit a pothole at speed or find yourself battling road obstructions.
Passenger comfort may suffer slightly with a Plus Sized package. This is because the vehicle suspension has been set considering smaller diameter wheels and tyres having larger sidewall heights (greater aspect ratio). While this is no issue whatsoever for a performance vehicle, if your car's sole purpose is to drive the kids around, Plus Sizing may not be the best option in terms of family driving comfort.
Plus and Minus
Keep these quick tips in mind when making Plus Sizing plans for the tyres on your vehicle.
Your Plus Sized tyres should have the same rolling circumference as the Standard model recommended for the vehicle. Talk to your JAX Tyres tyre technician about what this means. Essentially this is to ensure that the vehicle's speedometer and electronics, such as traction control and anti skid devices, are not put out of calibration.
The Plus Sized tyre has to fit the wheel rim width; you must follow manufacturer guidelines here because anything other will not be safe.
You need to select Plus Sized tyres with an equal or higher load ratio. It is not legially permissibile to fit tyres that have a lower load carrying capacity that the original fitment.
Be cautious of inflation pressure, it must be in accordance with the vehicle manufacturer's prescribed levels that are clearly indicated on the tyre placard (located normally in the inside of the driver's door) or vehicle handbook. Ask your JAX Tyres technician about the importance of correct tyre pressures.
Be cautious of speed ratings; never choose a Plus Size tyre with a lesser speed rating than your standard tyre recommendation for the vehicle.
Ask your JAX Tyres technician about things you might need to think about if you ever need to add tyre chains to your Plus Sized tyres.
Remember that Plus Size tyres can impact your braking performance. A JAX Tyres technician fitting your Plus Sized tyres will run you through the ins and outs of this, but it is especially prevalent in SUV vehicles and has to do with the wider diameter of the tyre weighing more and making it tougher for your braking system to stop a heavier vehicle.
The Legislation
It is important to be aware that there is State Legislation regarding altering tyre and wheels from the original vehicle fitment.
The legislation for each of the states where JAX Tyres has a service outlet is summarised in the links below. This information could be subject to periodical change and is provided ONLY as an indication of local state regulations at this time.
For further details we suggest that you visit your local road transport authority or consult with your local JAX Tyres store manager, who will be pleased to assist with the technical requirements.
NSW Guidelines for Alternative Wheels and Tyres:
Click here for the RTA Guidelines for Alternative Wheels and Tyres.
QLD Transport Modifications Guide:
Click herefor the QLD Transport Modifications Guide.
VIC Light Vehicle Construction and Modification Guide:
Click here for the Light Vehicle Construction and Modification Guide.
TAS Vehicle and Traffic Regulations Guide:
Click here for the Vehicle and Traffic Regulations Guide.
ACT Guidelines for Alternative Wheels and Tyres:
We are currently in the process of clarifying the requirements.
In all cases, where tyre and wheel fitments are being changed from the original equipment, it is good practice to inform and involve your insurance company.
Plus Sizing Professionals
If you have decided that tyre Plus Sizing is the way forward for you, stop by your local JAX Tyres store and have a chat with any of the friendly staff on hand.
When discussing your Plus Sizing package with JAX Tyres Plus Sizing professionals, prepare to discuss:
Tyre Diameter - Ask the technician everything you need to know about the outside diameter of the Plus Sized tyre when it is mounted to the car and inflated as directed.
Overall Width - The width of the cross section of the tyre when mounted and inflated as directed.
Section Height - The space between the bead and the tread of the tyre.
Aspect Ratio - The tyres section height in relation to its section width - expressed as a percentage.
Tread Width - The distance between the inner tread shoulder and the outer tread shoulder.
Always ensure that whenever Plus Size tyres are fitted that you carefully check that there is no interference of the tyre against the vehicle body or wheel arch when the steering is on maximum lock.
Sometimes bigger really is better. Chat to your local JAX Tyres about Plus Sizing your tyres today!