JAX Tyres & Auto specialises in the sales and service of tyres, wheels, brakes and suspension. The company operates through more than 87 franchised stores across Australia.
Stocking popular and globally recognised tyre brands allows for the best customer choice at JAX. The range caters to all budgets and includes BFGoodrich, Bridgestone, Continental, Dunlop, Goodyear, Hankook, Michelin and Pirelli.
Founded in 1949 when the very first JAX store was opened in Sydney, 37 years later JAX expanded its services from a tyre and wheel focused company to include brakes and suspension servicing.
In 1995 Quick Fit Tyres was created and initially had a strong presence in Queensland before expanding into Victoria. Then in early 2005, JAX Tyres joined forces with Quick Fit to form a tyre retailing powerhouse, one that has since earned a reputation as the most respected and professional tyre retailer in the country. Company growth is strong year-on-year, offering good returns for its privately-owned run stores.
JAX Tyres & Auto employs more than 500 people. Monthly, it serves more than 60,000 customers and provides them with the best tyre brands, advice, service and price.
JAX Tyres & Auto is also at the forefront of tyre retailing technology through a strategy called JAXIT which encompasses digital deployment to stores and consumers from the central source of data. The most notable components being Touchpoint digital point of sale, enabling customers to 'virtually fit' wheel options to their vehicle and JAXOnline. This industry first B2B / B2C e-Commerce platform operates 24/7/365, allowing customers to research, buy, pay and book online. Or more traditionally, to research, phone and drive in.
By offering a balanced product mix, a network of strategically positioned outlets and experienced and motivated staff, JAX Tyres & Auto has earned its first-class reputation for premium product, service and highly competitive pricing.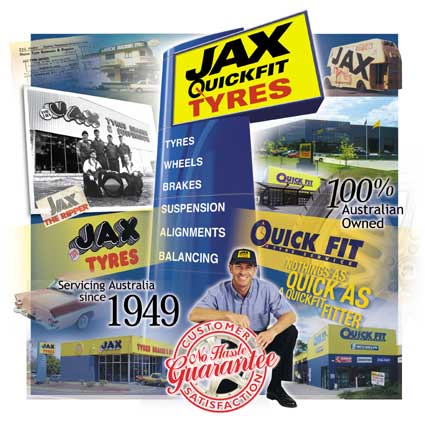 More about JAX Tyres & Auto