Changing your car's wheels and tyres can alter its behaviour on the road. Because of this, there are limits to the changes that are permitted. These guidelines specify those limits. It is still the responsibility of the owner to ensure that the vehicle remains safe even if modified within the limits.Except in cases where alternative wheels and tyres need to be certified by an engineering signatory, there is no obligation to notify the RTA when you fit them. It is, however, your responsibility to prove that your car is thoroughly safe at all times. If your alterations go beyond the guidelines, there is always the chance you could be stopped by the police, and your vehicle issued with a defect notice. WARNING! You should be aware that the modifications to your car can make the insurance cover void. This could mean that you would have to bear the costs of a crash out of your own pocket. Always check with your insurance company before you make any alteration to your car and stay within the National Code of Practice Motor Vehicle Guidelines.
D.O.T Inscription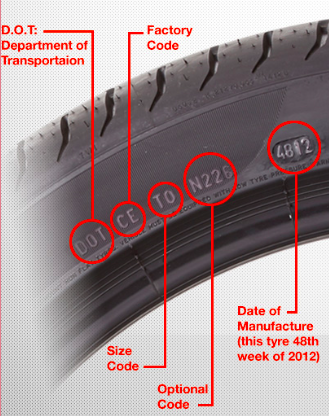 For a tyre to carry D.O.T markings confirms the tyre is compliant with all applicable safety standards established by the U.S. Department of Transportation (D.O.T).

Adjacent to this code, is a tyre identification or serial number to describe the plant location where the tyre was manufactured together with the week and year of production.

D.O.T (Department of Transportation) is a legal marking required in many countries in order to market the tyres.


D.O.T indicates:
The tyre meets or exceeds Department of Transportation safety standards
The manufacturer and Plant Code Number have been assigned by D.O.T
The Tyre Size Code Number
A group of Optional Symbols for the Manufacturer (This is identify the brand or other significant characteristics of the tyre)
The date of manufacture
---