What to look for in a great mechanic | JAX Tyres
Finding reliable car servicing and repairs near you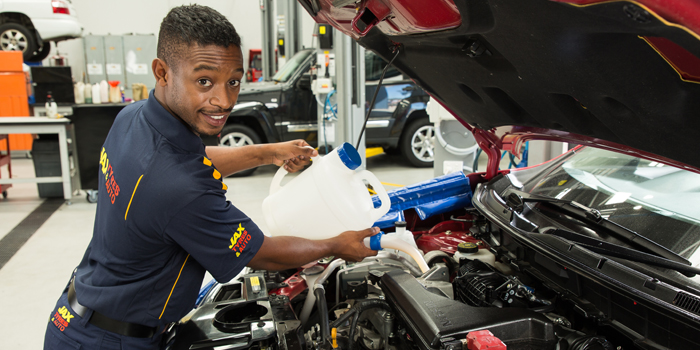 At one time or another most of us will need the help and expertise of a qualified mechanic.
Perhaps you break down roadside, maybe your car isn't running as smoothly as it should, or, more likely, you're just in need of a regular service from someone who knows their stuff.
No matter what your reason, if you're looking for a mechanic it's important to know what to expect in terms of service, cost and expertise.
So, if you're asking yourself 'how do I find a great mechanic near me,' read on.
We've got all the tips to help you find a great auto service nearby.
Table of contents
What does a mechanic actually do?
First things first, in order to find a great mechanic it's important to have a general understanding of the services that they offer and how they can help you.
A mechanic can perform a range of services including car repairs, routine servicing, vehicle maintenance and internal and external vehicle checks.
All of these services are tailored to ensure that your car keeps running at its best.
Specific tasks a mechanic may complete include:
- Oil change, filter changes and mechanical maintenance.
- Battery testing and replacement
- Tyre checking and replacement
- Major repair works
- Testing and repairing of car computer and electronic system
"Services are tailored to ensure that your car keeps running at its best."
3 things to look for in a great mechanic
inding a great mechanic comes down to 3 things: expertise, affordability and convenience.
1. Expertise
It's best practice to check that whoever will be working on your car is fully certified and trained. This isn't a problem with most major repair shops and all Jax mechanics are fully trained and qualified.
2. Affordability
By doing your research around cost you can ensure that you pay a fair price for whatever mechanic work you need to have done.
Tip: use our guide below as a reference point when you are discussing quotes.
At Jax, we pride ourselves on our affordable rates and excellent customer service.
3. Convenience
The last thing you want to be doing if your car needs servicing or repair work is driving for any long length of time to reach a mechanic.
Look for somewhere nearby with convenient opening hours.
"Finding a great mechanic comes down to 3 things: expertise, affordability and convenience"
How often should you see a mechanic
Car Servicing
Car manufacturers and mechanics will usually provide set timeframes/distance limits to give you a clear guide around when to service your car.
For some it may be necessary every six months/12,500km, for others it may be more or less.
If you're unsure, have a chat to your mechanic or manufacturer to find out when to book in.
Getting a routine vehicle service is like a health check-up, but for your car.
It will give you clarity around how everything is running, a heads up on any potential issues and peace of mind to know you're driving in safe conditions.
Repairs
It's always best to attend to repairs as soon as you notice there is a problem or that something isn't working quite as it should.
At Jax we provide regular and major servicing and repairs, making your local Jax Tyres a one-stop-shop for all things auto.
Regular services /repairs include simple tasks such as:
- battery testing and replacement
- oil changes, filter changes and servicing
- wheel replacements
- brake pad and disc changes
Major services / repairs include more intricate and in depth mechanic work, such as:
- fixing electrical issues
- suspension component replacement or overhaul
- timing belt, injector replacement, spark plugs and more
How much do mechanics cost?
At Jax we offer affordable auto servicing and repairs for light and heavy vehicles. Proper servicing and maintenance is crucial to safety and vehicle function. If you're wondering how much a service costs, every job and car is different, so give us a call for a quote and advice on 1300 367 897.
Ready for a service? Need some repair work?