What to look for in a great mechanic | JAX Tyres
Finding reliable car servicing and repairs near you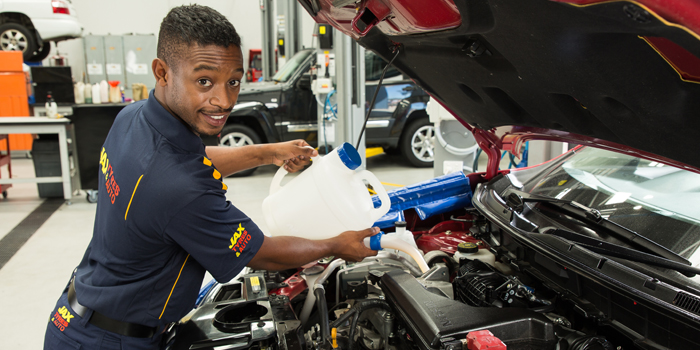 At one time or another most of us will need the help and expertise of a qualified mechanic.
Perhaps you break down roadside, maybe your car isn't running as smoothly as it should, or, more likely, you're just in need of a regular service from someone who knows their stuff.
No matter what your reason, if you're looking for a mechanic it's important to know what to expect in terms of service, cost and expertise.
So, if you're asking yourself 'how do I find a great mechanic near me,' read on.
We've got all the tips to help you find a great auto service nearby.
Table of contents
What does a mechanic actually do?
First things first, in order to find a great mechanic it's important to have a general understanding of the services that they offer and how they can help you.
A mechanic can perform a range of services including car repairs, routine servicing, vehicle maintenance and internal and external vehicle checks.
All of these services are tailored to ensure that your car keeps running at its best.
Specific tasks a mechanic may complete include:
- Oil change, filter changes and mechanical maintenance.
- Battery testing and replacement
- Tyre checking and replacement
- Major repair works
- Testing and repairing of car computer and electronic system
"Services are tailored to ensure that your car keeps running at its best."
3 things to look for in a great mechanic
inding a great mechanic comes down to 3 things: expertise, affordability and convenience.
1. Expertise
It's best practice to check that whoever will be working on your car is fully certified and trained. This isn't a problem with most major repair shops and all Jax mechanics are fully trained and qualified.
2. Affordability
By doing your research around cost you can ensure that you pay a fair price for whatever mechanic work you need to have done.
Tip: use our guide below as a reference point when you are discussing quotes.
At Jax, we pride ourselves on our affordable rates and excellent customer service.
3. Convenience
The last thing you want to be doing if your car needs servicing or repair work is driving for any long length of time to reach a mechanic.
Look for somewhere nearby with convenient opening hours.
"Finding a great mechanic comes down to 3 things: expertise, affordability and convenience"
How often should you see a mechanic
Car Servicing
Car manufacturers and mechanics will usually provide set timeframes/distance limits to give you a clear guide around when to service your car.
For some it may be necessary every six months/12,500km, for others it may be more or less.
If you're unsure, have a chat to your mechanic or manufacturer to find out when to book in.
Getting a routine vehicle service is like a health check-up, but for your car.
It will give you clarity around how everything is running, a heads up on any potential issues and peace of mind to know you're driving in safe conditions.
Repairs
It's always best to attend to repairs as soon as you notice there is a problem or that something isn't working quite as it should.
At Jax we provide regular and major servicing and repairs, making your local Jax Tyres a one-stop-shop for all things auto.
Regular services /repairs include simple tasks such as:
- battery testing and replacement
- oil changes, filter changes and servicing
- wheel replacements
- brake pad and disc changes
Major services / repairs include more intricate and in depth mechanic work, such as:
- fixing electrical issues
- suspension component replacement or overhaul
- timing belt, injector replacement, spark plugs and more
How much do mechanics cost?
At Jax we offer affordable auto servicing and repairs for light and heavy vehicles. Proper servicing and maintenance is crucial to safety and vehicle function. If you're wondering how much a service costs, every job and car is different, so give us a call for a quote and advice on 1300 367 897.
Ready for a service? Need some repair work?
What questions should I ask my mechanic?
Before you let anyone work on your car, you should ask them some basic questions to determine whether they are the best person for the job. Based on their answers, you'll know if they're the right mechanic to do the job. Some key questions to ask include:
Are You Certified or Master Certified?
Asking to see your mechanic's qualifications can give you confidence in their ability to complete the work to a high standard. If they're not willing to show you their licenses, you may want to think twice about working with them.
In Australia, the necessary licensing requirements vary between states. In NSW, for example, all mechanics require a Motor Vehicle Repairer's Licence, allowing them to conduct repair work on motor vehicles. Victorian mechanics require a Vehicle Tester Licence.
If you are unsure about what licensing requirements you need for your state, ask your local JAX expert for more details.
Can You Provide Customer References?
Having a frame of reference for previous work they have done is an excellent way of understanding their work standard. You can often find this on their website, through online reviews such as Google My Business or by digging yourself. Check with friends, family members, co-workers, and the local business directory.
Can You Talk Me Through the Repairs That Are Needed?
Understanding what you need to do precisely can help you know what you are being charged for, better grasp the entire process, and help you ask any follow-up questions you might have.
Can I negotiate with my mechanic?
Sometimes you may feel your mechanic is quoting you a crazy high estimate to fix your car, and you don't feel like you have a choice. In these cases, you may have a chance to negotiate. And while some itemised charges may stand firm (like some parts prices), others have significant wiggle room.
When negotiating car repair quotes, it's always a good idea to check what the competition offers. Search the internet for "mechanics in (your city)" and make a list of a few car care shops with good reviews near you and figure out the most competitive price. You can either go back to your previous mechanic with this newfound knowledge or go with the better-priced competitor.
Should I get my car serviced at a dealership or a local mechanic?
There is a common misconception that if you want to keep your new car warranty, you must take your vehicle back to the dealership. However, this is not often the case, and most mechanics advertise log book services that won't affect your warranty.
So why might you want to have your vehicle serviced at a dealership?
Dealerships generally deal with one specific car brand, so they'll likely be experts on the make and model of your car.
They have access to the electronic scan tools specific to your vehicle's make.
Many new cars such as the popular brand like Toyota, Mazda and Mitsubishi come with a capped-price servicing scheme. This means the manufacturer limits the maximum price a dealership can charge you for a service.
On the other hand, you may choose to get your car serviced by a local mechanic. Some of the advantages are:
Availability: major third-party services can offer standardised cars across all Australian states and territories, therefore, retaining consistent quality standards across locations
Affordability: local workshops often have less overhead costs than dealerships, which means a significantly lower price for customers
Personalised service: it's often much easier to build a personal relationship with your friendly local mechanic as you can often speak directly with them. This often simplifies the process and leaves you more confident about getting the desired outcome.
Location: independent workshops are often more conveniently located than dealerships. This makes it much easier to drop off your car and get home, especially if you need to leave your vehicle for repairs.
At the end of the day, it's up to personal preference. If you are still unsure, chat with your friendly JAX representative to see what would be the best fit for you.
Do car mechanics do Afterpay or Zip Pay?
We understand that your car can have some unforeseen hiccups now and then. At JAX Tyres and Auto, we offer ZipPay, Afterpay and Openpay in-store for the mechanics, ensuring that you never have to put off your car care. This payment procedure allows you to finance your repair services without putting financial strain on you and your family.
Can a mobile mechanic service my car?
At JAX Tyres, we offer mobile car servicing services to help you get back up and running faster and hassle-free.
Mobile car servicing is where qualified mechanics come to wherever you are, whether at your home or office and carry out repair and maintenance jobs. This type of servicing is a 'travelling workshop' setup where we carry all the tools we need to complete a comprehensive automotive repair wherever we go.
What can I do if I am unhappy with my mechanic?
If you are unhappy with repair work, you should first raise any issue or concern with the repairer and give them a chance to explain or fix the problem. Sometimes it might simply be down to a miscommunication. When doing so, you may want to:
Mention the warranty on parts and repairs
Consider that a problem may be unrelated to the work that they did
Contact your insurance company if the car is insured.
Suppose you are still not happy after speaking with your mechanic. In that case, you may also request an independent report on the vehicle's condition from a qualified motor mechanic. We recommend you get a mechanic who belongs to a recognised body, such as the RACV, to do the assessment.
As this report comes from a neutral third party, it may encourage the mechanic to rethink their position, as it comes from a neutral third party.