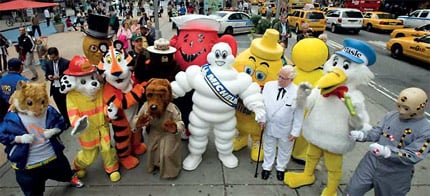 The Michelin Man turned 113 years old in October and celebrated by being inducted into Advertising Week's Walk of Fame as "Icon of the Year" in ceremonies at Time Square in New York. As part of an online voting contest, The Michelin Man won the hearts of many who voted online to elevate him to his rightful place in advertising history.
For more than a century, The Michelin Man has served as an ambassador for the Michelin brand. In 1894, the two founding brothers, Andre and Edouard Michelin, saw a stack of tyres and noted that with arms "it would make a man." Four years later, in 1898, The Michelin Man's character was born, appearing in Michelin posters and representing the company. Today, The Michelin Man – sometimes called "Bibendum" – is regarded as one of the most iconic symbols in the world.
The Michelin Man has stood the test of time while representing improvements in transportation of people and goods, respect for the environment and promotion of road safety. As one of the world's most recognized brand icons, The Michelin Man represents mobility to millions of consumers in more than 150 countries. As the ultimate stamp of approval, he gives consumers confidence wherever they are going by providing fuel-efficient, safe, long-lasting tyres.
The Madison Avenue Advertising Walk of Fame recognizes America's most beloved advertising icons and slogans. The Michelin Man will join such other iconic symbols as Columbian coffee icon Juan Valdez and Geico's gecko.