November 27, 2012 | Goodyear
QUEENSLAND'S GALL BOYS HAVE DEVELOPED A WORLDWIDE REPUTATION FOR DRAGGING, SLIDING AND BASHING THEIR ALL-TERRAIN "KEDRON CARAVANS" ALONG AUSTRALIA'S TOUGHEST 4WD TRACKS THAT EVEN SERIOUS OFF-ROADERS THINK TWICE ABOUT.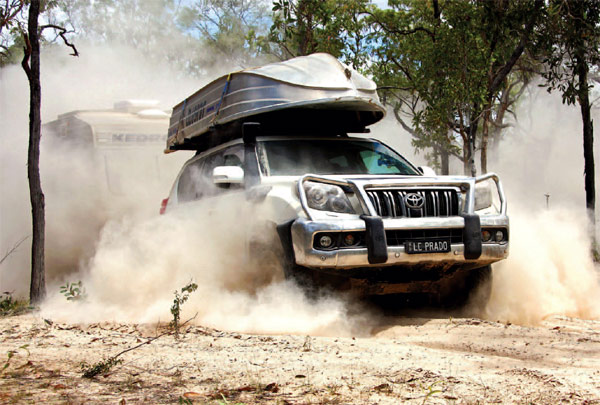 The adventuring family, led by patriarch Barry, have recently released the latest addition in their The Gall Boys DVD series. "Queensland's Coral Coast" follows the family through the Coral Coast region of North Queensland via Rockhampton and Mackay, Airlie Beach and Townsville, all the way to the northern-most tip of Australia, Cape York.
And once again, The Gall Boys chose Goodyear's off-road Wrangler range of tyresto arm not only their Toyota Prado and Kedron Cross Country XC3 as they give them one of the most severe torture tests imaginable, but also the support vehicles for peace of mind behind the scenes.
"With 50 years in the caravan industry, and over a decade filming remote adventures, we've grown very confident in Goodyear's Wrangler range of tyres," said Glen Gall, Barry's youngest son.
"During each trip, we've pushed them through some of the most remote and rugged areas that Australia has to offer, all while under the extra strain of towing a 2.5 tonne caravan, and their reliability for us has been truly unequalled.
"After extensive off-road testing with them through the Kimberley, Cape York, Arnhem Land, Tanami Desert and many other remote locations, they are our number one choice for not only us, but nearly every customer's Kedron Caravan that rolls out the gate setting off on their own adventures.
"Our latest "Queensland's Coral Coast" adventure was up there with some of the most rugged we have done. We had Goodyear's MT/R Kevlar tyres on the tow vehicle, with Wrangler Silent Armors on the caravans, which all proved to be faultless for us."
Since the 1960s, Barry Gall has been involved with caravans. He's now joined by his five sons, David, Peter, Ashley, Craig and Glen, who teamed up in the '90s to manufacture a range of custom built, all terrain "Kedron Caravans".
The Gall Boys also produce and sell DVDs of their remote off-road caravan adventures.