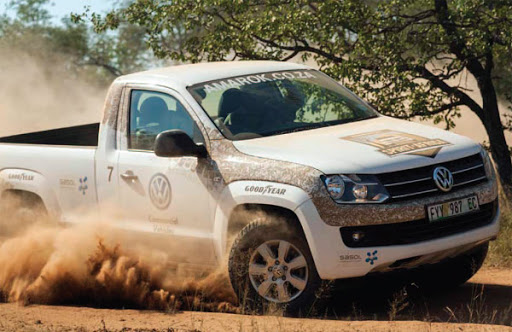 September 27, 2014 | Goodyear
Designed to test both man and machine in the harshest African conditions, the Spirit of Africa 2013 has once again chosen to fit Goodyear's rugged Wrangler tyres to its fleet of competing Volkswagen Amarok 4X4s.
Hosted by legendary racing driver, Sarel van der Merwe, the elimination round of this year's Spirit of Africa took place on a course that is longer and more difficult than in prior years, putting the 250 teams through their paces in a host of exercises that include speed tests, reverse tests as well as technical driving in rough terrain.
"In this demanding competition which encompasses technical 4X4 driving over rocks and in the sand as well as speed sections, the Goodyear Wranglers have proved to be the most versatile and are the only tyres I'm prepared to use," Van der Merwe said.
"These tyres are flexible, their tread is high, their grip is fantastic and they have been engineered and built to endure extreme terrains so I have complete confidence in them," he explained.
The overall top 20 teams to come through the elimination rounds made it into the final which will be held in Southern Namibia. Here the sandy conditions will make for treacherous racing but fortunately for competitors there is no tyre to match the Goodyear Wranglers for handling on sand.