September 27, 2009 | admin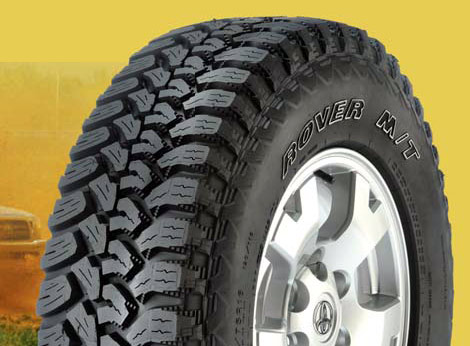 BLENDING A TOUGH, RUGGED APPEARANCE WITH AN INTEGRATED TREAD PATTERN FOR TRACTION AND STYLE, THE NEW DUNLOP ROVER M/T MAXX TRACTION HAS BEEN BUILT TO PROVIDE MAXIMUM TRACTION IN TOUGH OFF-ROAD DRIVING CONDITIONS AS WELL AS HANDLE WELL ON-ROAD
Recently launched in Australia, the Dunlop Rover M/T Maxx Traction tyre is an on- and off-road 4WD tyre with sidewall styling to match its bold performance. Thanks to its Asymmetric Integrated Tread Pattern, the Rover M/T Maxx Traction helps deliver outstanding performance on multiple surfaces.
"Research indicates that most 4WD owners don't take their vehicles off-road very regularly, but when they do, they need a tyre performance that can deliver. The new Dunlop Rover M/T Maxx Traction is a choice that works on the highway or in the dirt," Dunlop Product Manager Blake Vincent said.
"Initially available in popular 16 inch sizes, the Rover M/T Maxx Traction features centre traction lugs for excellent start-up and braking traction in sand, dirt and wet conditions, along with self-cleaning channels that help expel mud and debris.
"Off-road traction is helped by the presence an interlocking centreline and zig-zag stripes.
The tyre also contains a rim flange protector sidewall edge elements to create a strong appearance while enhancing both off-road and on-road ride.
"For on-road performance, the tyre employs Dunlop's Multi-Pitch Tread Design Technology, which helps reduce noise for a quiet ride."
Already a much heralded product overseas, the M/T Rover Maxx Traction was honoured with a 'Global Media Award' when first previewed in North America at the Specialty Equipment Market Association (SEMA) Show in Las Vegas, Nevada, the week of November 3, 2008.
Recognising the increasing global appeal of specialty automotive style and performance equipment, SEMA presented the fifth annual Global Media Awards to select member companies.
Winners were selected by a jury of international journalists, representing 51 media titles, which reviewed more than 2,000 new products introduced at the SEMA Show.
"Our goal was to have said Lindmedia experts from around the world determine which new products are likely to succeed in their home markets,"a Spencer, SEMA director of international and government relations.
The SEMA Global Media Awards are given to automotive equipment companies whose products are selected by a voting panel of international automotive journalists. Votes go to products the journalists feel would generate the most interest in their home country, making the award a prestigious recognition of global appeal.