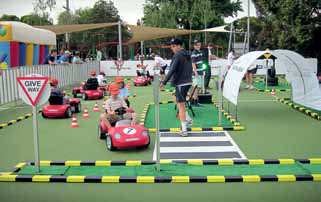 Michelin and Porsche teamed up at the Trinity Grammar School Fair to run a Kids Driving School on 13 November 2011. The aim of this event was to help educate primary school children valuable road safety lessons.
In a hands-on experience the children participated in a ten minute session where they learnt general road rules in a fun, interactive manner. They were then given the chance to put this into practice, peddling around a miniature road network in their own Porsche!
Almost 100 children participated on the day, all seemed to really enjoy themselves while increasing their awareness of road safety. Whilst there were a few minor crashes throughout the day, this just highlighted to the kids the importance of having road rules. All participants walked away with not only an increased understanding of basic road rules but also a certificate of completion, licence for the Michelin/Porsche Kids Driving School and a show bag of goodies.
Michelin is proud to be a partner in the Porsche Kids Driving School as it fits well with Michelin's ambition to deliver safer mobility. Globally Michelin is already involved with a number of activities to improve the safety of children on the road.
Michelin one of the very first organisations to sign up to the United Nations Decade of Action for Road Safety (2011-2020), we have committed to help "…stabilize and then reduce the forecast level of road traffic fatalities around the world by 2020."
Programmes include Junior Bike which is a program to encourage children to wear a helmet when riding a bike.
In conjunction with the European Commission, Michelin is also undertaking the ROSYPE (ROad Safety for Young People in Europe) programme. Launched in 2009 to raise road safety awareness among 730,000 young Europeans, the purpose is to modify the behaviour of young people – the demographic most at risk of accidents.
The road safety lessons organised by Michelin and Porsche in Australia represent one further action to improve the safety of children on our roads.