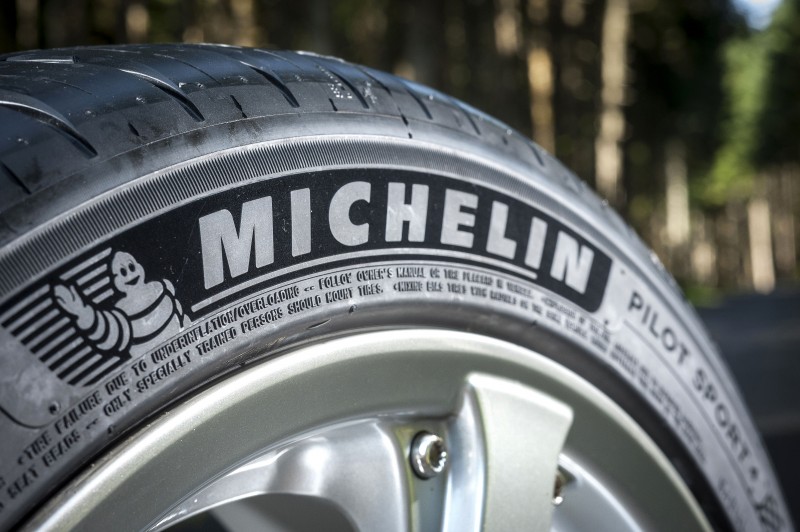 Michelin's new Pilot Sport 4 tyre has won the Auto Express Ultimate Tyre Test.
Eight tyres in the size 225/40 18 Y 92 XL were fitted to a Volkswagen Golf and put through their paces in test categories including dry handling, dry braking, wet handling, wet braking, wet cornering, straight aquaplaning, curved aquaplaning, rolling resistance and cabin noise.
Commenting on the victorious Michelin product, Auto Express' testers said: "There's a liveliness to the steering that makes most rivals seem soft and spongy," adding "It starred in the braking tests, making rivals look ordinary in the wet. There was also a clear margin in the dry."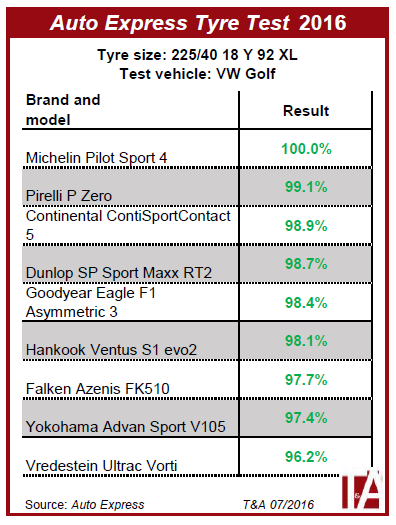 As well as winning overall, the Michelin tyre topped the tables for dry braking and wet braking; however, it finished joint bottom for cabin noise.
According to Michelin, many of the technologies incorporated in the Michelin Pilot Sport 4 were developed from the manufacturer's involvement in Formula E – the world's first electric single-seater race series.
"The Michelin Pilot Sport 4 is testament to our track to street philosophy. We got involved with Formula E at its inception because we knew we would learn so much in a very short space of time. The series uses a tyre size that relates to on-the-road cars and it takes place on real roads with potholes, rough surfaces, grids, surface paint and everything else motorists are faced with every day," Rebeca Nieto, Michelin's Commercial Director for Car, Van and 4 x 4 in the UK and Ireland said.
"Not only that, the tyre has to be able to handle high performance in both the wet and the dry, it has to be extremely durable and it has to be very efficient to prolong battery life."
The responsive tread on the Michelin Pilot Sport 4 adapts to the road thanks to the interaction between architecture, tread pattern and compound. New Dynamic Response technology consists of a belt with hybrid aramid and nylon reinforcement that ensures optimal directional control.
Meanwhile a new homogeneous compound mix features functional elastomers to improve the distribution of fine silica, enhancing wet braking, while water evacuation is maximised with deep, wide longitudinal grooves. The new mixture is also said to improve the tyre's longevity and fuel efficiency.
Source: http://www.tyrepress.com/2016/07/michelin-pilot-sport-4-wins-auto-express-tyre-test/