May 28, 2019 |
Hankook Tyre Receives Two Honda Supplier of the Year Awards
Hankook Tyre has received recognition from Honda Motor Company as a Supplier of the Year during the 35th annual Honda Supplier Conference, held recently in Columbus, Ohio.
Hankook was one of just four suppliers to be recognised with awards for excellence in both quality and delivery, as well as value.
Hankook has now been the recipient of awards in the supplier value category four times as well as two in the newly merged delivery and quality category from the manufacturer.
"The value of our suppliers and what they contribute to Honda is critical to our success and our effort to drive innovation into our products and production processes toward the future," Pam Heminger, vice president for Purchasing, Honda of America Mfg, Inc said.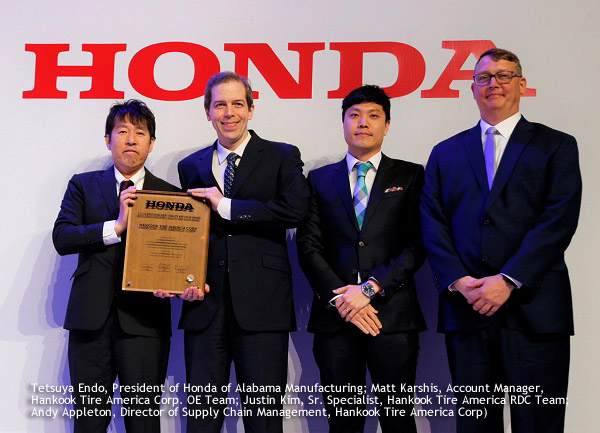 Honda recognised 85 North American suppliers that consistently exceeded expectations, created outstanding value, and brought new innovations to the company in the past year.
"Hankook values our partnership with Honda to provide the highest quality tyres for Honda vehicles. These awards are a reflection of our strong and growing relationship, and it is an honour to continue to support Honda," Eric Shirley, Hankook Tyre's director of original equipment sales said.
Mr. Hyuniun Cho, Head of Hankook Tyre OE Division added: "Acknowledgement from our partners is a testament to Hankook Tyre's technology leadership and premium quality. We will continue to thrive as a premium global brand by providing innovative, top-quality tyres to our partners worldwide."
Hankook Tyre is among the top U.S suppliers for Honda that supplies tyres to 16 plants in North America that produce Honda automobiles and light trucks.
Source: https://www.hankooktire.com/au/about-hankook-tire/media-center/press-room.65977.html?div=&text=&selsort=&tab=&page=