May 09, 2019 |
Hankook Rebrands as Hankook Technology Group
Hankook Tyre Co. Ltd. has announced it will rename itself "Hankook Tyre & Technology" to reflect its technological innovations and strengthen its future new business development strategy.
As part of this, Hankook has also renamed Hankook Tyre Worldwide to "Hankook Technology Group," and is changing the names of several holding companies and major affiliates.
With these name changes, Hankook states it is establishing a unified brand system, and these changes should represent a turning point in enhancing future competitiveness based on technology innovation.
"The name change of Hankook Tyre Group is an attempt to cope with the era of the fourth Industrial Revolution, which increases the uncertainty of the future industrial ecosystem, to strengthen the business competitiveness of individual affiliates, and to lay the groundwork for continuously promoting destructive innovation that will challenge new business development," the company said in a statement.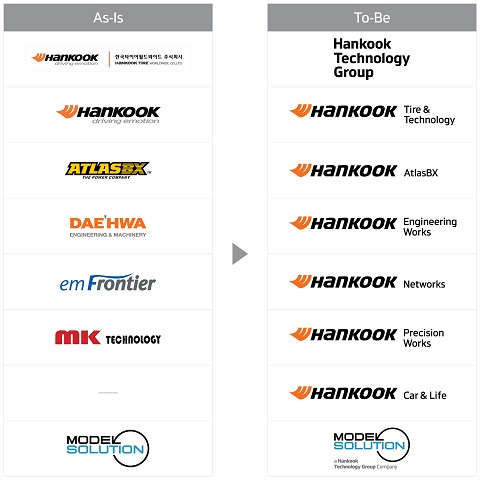 Hankook also stated it will establish a digitally based innovation model that integrates various information and communication technologies such as artificial intelligence and big data in all fields, including production, distribution, sales and service.
Among the Hankook affiliates, the name changes are as follows:
ATLASBX, a leading Korean battery company for more than 70 years, will change its name to Hankook Atlas BX.

MK Technology Corp, a manufacturer of tyre moulds, tyre curing containers and precision parts will become Hankook Precision Works.

EmFrontier, Inc., a professional IT service and logistics engineering company, will change its name to Hankook Networks.

Daehwa Engineering & Machinery Co. Ltd, a builder of essential machines used in tyre manufacturers will become Hankook Engineering Works.

HK Automotive Co., Ltd, a company established in 2017 that covers dealerships, auto and tyre maintenance, and imported auto parts, will become Hankook Car & Life.
One Hankook affiliate that will keep its current name is Model Solution. Since 1993, Model Solution has designed and manufactured prototypes of new products that incorporate cutting-edge technologies. It has more than 420 clients worldwide.
According to Hankook, it plans to expand the entire process from product development to mass production, in order to become a total solution company through cutting-edge technology and 'One Stop Solution' platform, and move forward as the mainstay of securing the next-generation growth engine.
Incorporated in the integrated branding system, the major affiliates of Hankook Technology Group will - according to Hankook - spur development of innovative technologies and services along with the 'Hankook' brand in various business activities such as sales, recruitment, and community, which will contribute to consolidating the future competitiveness of the entire group.
Sources:
https://www.rubbernews.com/tire/hankook-rebrands-hankook-technology-group
https://www.hankooktire.com/au/about-hankook-tire/media-center/press-room.65890.html