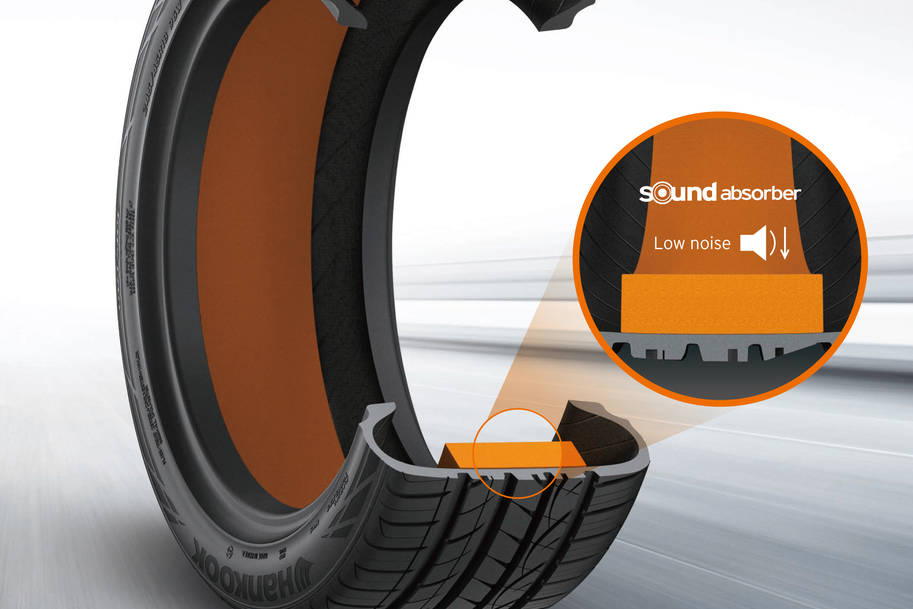 Hankook has announced it is updating the sound absorption technology fitted to its tyres.
Since 2016, its patented "sound absorber" technology has been fitted as original equipment across a variety of vehicle classes including premium SUVs and high-powered sport coupés.
With this technology, Hankook significantly reduces a car's interior noise caused by tyre cavity vibrations to create a more comfortable and luxurious driving experience.
The Hankook "sound absorber®" tyres are equipped with a special polyurethane foam inlay sheet which is attached to the inside of the tyre during the manufacturing process. This helps to reduce unpleasant system-related resonance/droning frequencies which are produced at certain speeds during normal driving.
When the "sound absorber®" tyres are used, the noise level peak value inside the vehicle drops considerably, by as much as 5 to 7 dB(A).
Previously the acoustic foam used was fixed in place using a thin layer of the company's own Sealguard material which was applied all over in a labour intensive process. As the "sound absorber®" technology developed, the foam application was integrated into the fully automated tyre manufacturing process.
This Sealguard material has now been replaced by a silicone-based glue that only needs to partially cover the inside of the tyre, instead of the full-surface application previously used.
This updated adhesion process, in conjunction with a newly developed and lighter-weight acoustic foam, allows the second generation "sound absorber®" tyres to offer a considerable weight optimisation.
As a result, this means a labour intensive manufacturing process is no longer necessary, thus allowing larger production volumes to be achieved through fully automated production.
Consequently, Hankook states that, in the future its "sound absorber®" tyres will not be limited to luxury and premium class vehicles; they will also become increasingly viable options for upper medium-class models.
Source:
https://www.hankooktire-mediacenter.com/index.php?id=151&flt=1&tx_news_pi1%5Bnews%5D=3690&tx_news_pi1%5Bcontroller%5D=News&tx_news_pi1%5Baction%5D=detail&cHash=6411e78a9f3e8b59d870a5ede40c98d4