Opening Hours
Sunday
Monday
Tuesday
Wednesday
Thursday
Friday
Saturday
Closed
Closed
07:30 AM - 05:00 PM
07:30 AM - 05:00 PM
07:30 AM - 05:00 PM
07:30 AM - 05:00 PM
07:30 AM - 05:00 PM
08:00 AM - 12:00 PM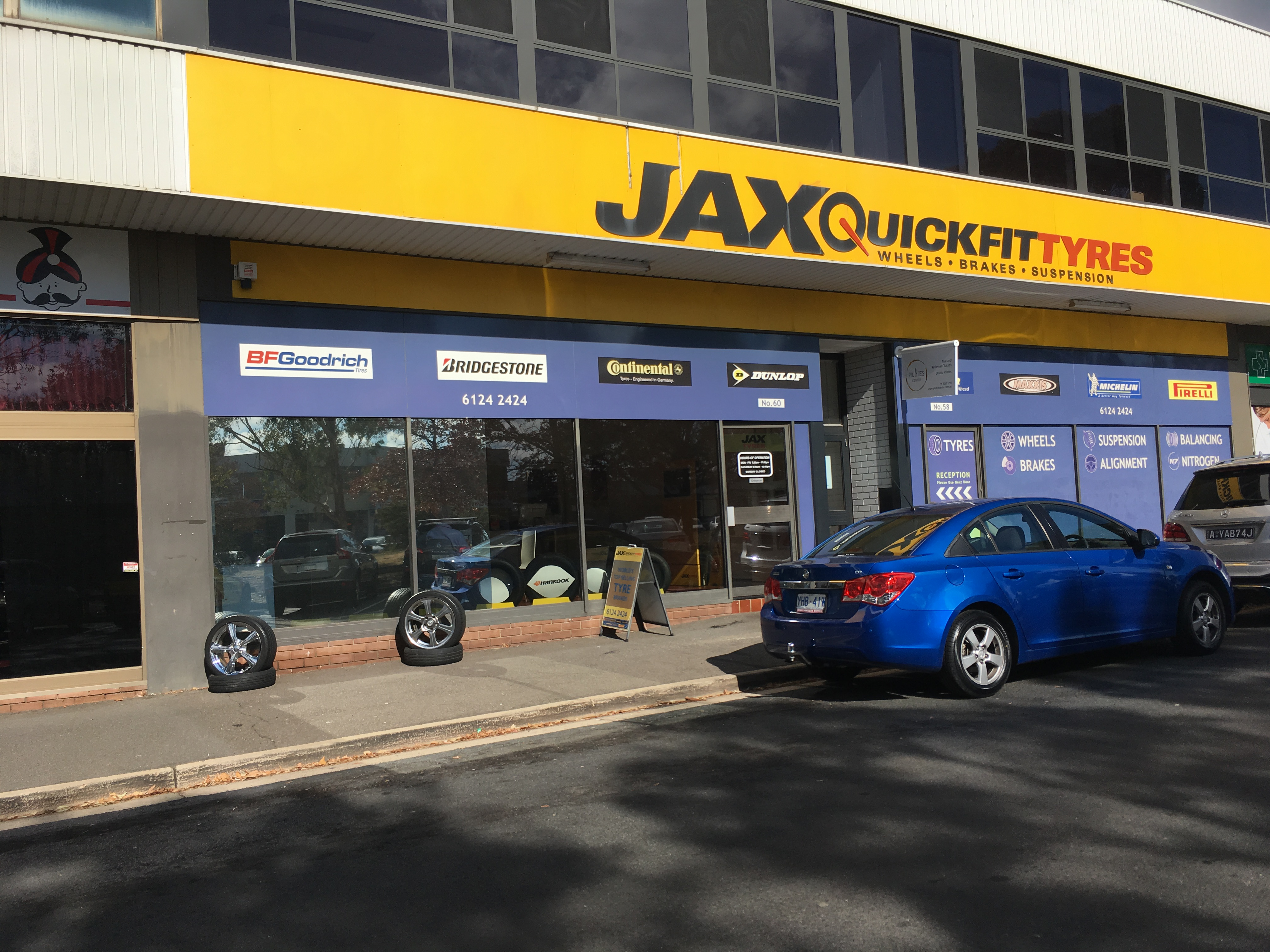 About JAX Tyres & Auto Phillip
With over 30 years industry experience Brad Martin joined the JAX team to continue the tradition of
excellent service and fantastic product. Sharing his enthusiasm with his team, Brad is determined to
offer the right product for the right client, with integrity and honesty foremost in his interactions.
Employing and supporting locals, Brad appreciates the sense of community offered in Phillip and
Canberra and looks forward to seeing you in store.
JAX Tyres Phillip offers the best brands, the best advice, the best service and the best price. Associated services like balancing, alignments, rotations and nitrogen inflation are also available. Brad notes that nitrogen gives the tyre a longer life, and makes it safer on the roads.
Purchase four new tyres from a range of respected brands, and a wheel alignment to qualify for the myjax platinum tyre maintenance plan. The programme includes over $500 worth of savings for each car in the family and allows customers to access and track their tyre maintenance online, via myjax.com.au. Following the recommended servicing using the periodical reminders within the programme provides significant discounts and bonuses while prolonging the life and performance of the investment.
The Colbee Court store provides the right tyres for your vehicle and services those living within the ACT, close to Woden, Duffy, Rivett, Chapman, Stirling, Waramanga, Fisher, Weston, Holder, Lyons, Curtin, Chifley, Pearce, Torrens, Farrer, Mawson, O'Malley, Phillip, Hughes, Garran, Deakin and Yarralumla.
JAX Tyres specialises in tyres, wheels, brakes and suspension servicing. Australian owned and established in 1949, JAX Tyres is unique in representing the top global manufacturing giants of the tyre industry. High performance passenger car, light truck and four-wheel drive (4x4) brands

BFGoodrich, Bridgestone, Continental, Dunlop, Goodyear, Hankook, Laufenn, Michelin, Mickey Thompson, and Pirelli

are available, together with value for money brand options. This provides a comprehensive customer choice through a mix of brands spanning the premium, major and budget market sectors for tyre sales in Australia. JAX Tyres services over 60,000 of the Australian motoring public each month through a network of 80 stores along the Eastern Seaboard.