Extra $100 back when you spend $500 with your Zip pay later business account!
Your $100 sweetener to make the most of the EOFY sales and pay later
Between 1 and 30 June 2021, if you get a new Zip Business Trade Plus account and spend $500 or more on a single transaction, you'll get $100 back in your account within 14 days.
Click here to choose an account and get started.
Make sure you use the promo code EOFY to take advantage of this offer!
Eligibility:
Having an active ABN or ACN
6+ months in business
More than $5,000 in monthly sales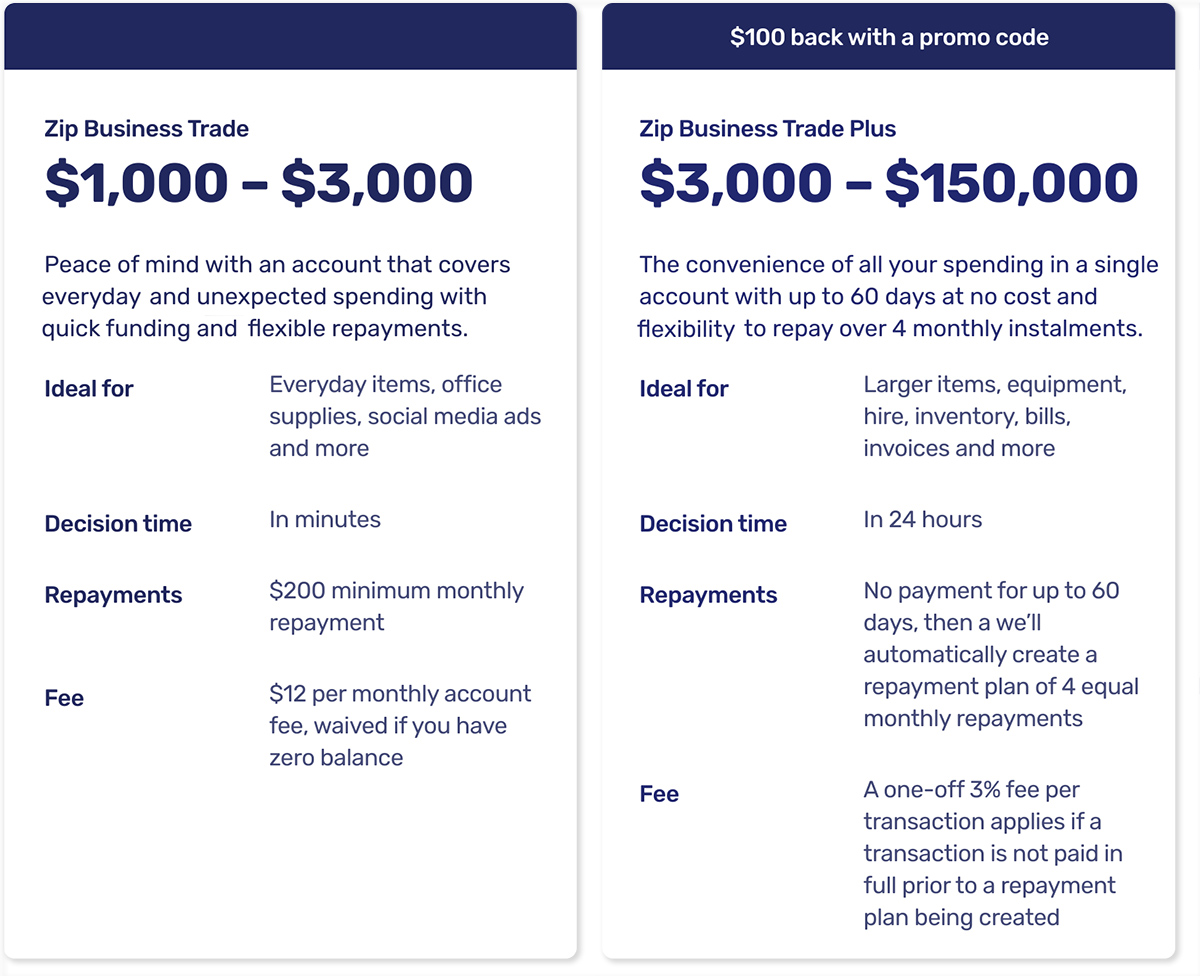 Terms & Conditions 31 May 2021
Sign up as a new Zip Business Trade Plus Account ("Zip Account") with a valid promotional code, and complete a transaction of $500 AUD or more to get $100 AUD credit back to your Zip Account ("Offer"). This Offer is only available between 12:01AM (AEST) 31 May 2021 and 11:59PM (AEST) 30th June 2021 ("Offer Period").
To be eligible to receive this Offer you must, within the Offer period;
1. Apply for a Zip Account for the first time, using a valid promotional code (which you will, and be approved for the Zip Account in accordance with our eligibility and approval criteria; and
2. Successfully complete a single transaction of $500 AUD or more in store or online using your Zip Account ("Eligible Transaction").
The credit back is capped at a maximum of $100 AUD credit back per Zip customer (i.e you are only eligible for this Offer once). The $100 AUD credit back will be applied within 14 business days to the Eligible Transaction on the Zip Account from which the Eligible Transaction was made. Credit back shall appear on your applicable Zip statement as 'Account Credit'.
The $100 AUD credit back amount will be applied as a discount to the value of your Eligible Transaction in your Zip Account. If the value of that Eligible Transaction is paid off prior to the credit back being applied, the $100 AUD credit back will be applied to your next transaction on the same Zip Account of $100 AUD or more. This second transaction will need to be completed before 31 August 2021, failing which the $100 AUD credit back Offer will expire. You will not be able to withdraw the credit from your Zip Account or revert to cash, it can only be used via your nominated Zip Account.
This Offer is subject to your Zip Account (used to participate in the Offer) remaining open and being kept in good standing for the duration of the Offer Period and until the credit back amount is applied to your Zip Account. Any credit back amount applied to your Zip Account will result in a reduction of the amount you owe to Zip. By participating in this offer you agree that should any Eligible Transaction be cancelled, refunded, or varied in any manner Zip shall be entitled Zip to charge an amount of $100 AUD against your Zip Account in lieu of the Credit Back applied to the Eligible Transaction which has been cancelled, refunded or varied in any manner. You will be liable.
If at any time Zip reasonably believes that you are engaging in this promotion through fraudulent, deceptive, or dishonest actions or means, or you violate these or your Zip Account terms and conditions, Zip reserve the right to block the release of any credit back, deduct any credit back from your Zip Account, or cancel or block your participation in the promotion.
This Offer cannot be used in conjunction with any other Offers. Zip does not make any warranties or representations on the delivery, service, quantity, merchantability, suitability or availability of the services provided.
Nothing in these terms and conditions is intended to exclude, restrict or modify any non-excludable right or remedy you have under law including the Australian Consumer Law. Any disclaimer, exclusion, or limitation as provided for in these conditions applies to the full extent permitted by law and subject to any non-excludable right or remedy.
Zip reserves the right to vary the terms and conditions of the Offer and Offer Period at its reasonable discretion by publishing revised terms on http://zip.co/business/promoterms, including (but not limited to) cancelling or in any way modifying this Offer or Offer Period.
This offer is being made by Zip Money Payments Pty Ltd ABN 58 164 440 993.