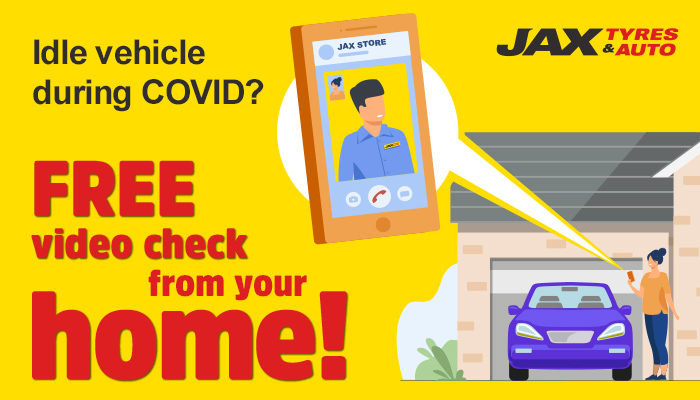 Has your vehicle been idle during the COVID Lockdown?
A qualified JAX technician will take you through the steps from your own home! This inital check will cover points such as tyres, clutch, park brake, lights, battery, exhaust and any concerns you may have.
Book and pay via our online chat now. Look for the icon in the bottom right corner of the screen.
These offers are valid only for pre-bookings made before lockdown ends in Sydney.
We are available
JAX Tyres & Auto is an essential service and is available for business.
Terms & Conditions
Valid only at participating stores
Tyre brands included in the 10% off offer: Pirelli, Michelin, Dunlop, Laufenn
The Customer acknowledges that all FREE Video Check requests are subject to the confirmation of the JAX business at the location of your request.
Each store is free to schedule the FREE Video Check at a time that suits, whether immediately or at a later time.
This offer may be withdrawn or varied by JAX Quickfit Franchising Systems at any time at its discretion.

The video check service is intended for a preliminary visual diagnosis of the vehicle only. A

ny information which may be provided pursuant to this video check service is intended to be general in nature only, is subject to change and is not to be substituted for a complete in-store examination of the vehicle by a qualified mechanic.

JAX Quickfit Franchising Systems Pty Limited, its related entities, employees, agents

and franchisees make no warranties or representations of any kind as to the accuracy and suitability of any information that may be provided via the video check service.

Use of the video check service is strictly at the users own risk and

JAX Quickfit Franchising Systems Pty Limited, its related entities, employees, agents

and franchisees

disclaim any liability for any loss (direct, indirect or otherwise), damage, cost or expense incurred or may be incurred pursuant to that use.

We are committed to protecting your privacy. By using this video check service you are accepting and consenting to the practices set out in our Privacy Policy: https://www.jaxtyres.com.au/legal/privacy-policy

These offers are valid at participating stores only, check eligibility with your nearest store. Each store can decide to participate at his own discretion.
Pre-bookings have to be made before lockdown ends in Sydney
Offer is transferable to a new owner of the vehicle, provided the registration number of the vehicle is not changed.
Only 1 pre-booking offer can be redeemed per vehicle
This offer is valid in conjunction with other battery or mechanical promotions
Excludes fleet, government, wholesale, commercial and account purchases. Offer does not apply to wholesale customers.
Valid only at VIC and NSW stores. The Video Check service isn't available at:

JAX Tyres & Auto Kensington (NSW)

The Customer acknowledges that all bookings are subject to the confirmation of the JAX business at the location of your booking.
The Customer acknowledges and agrees that once a booking is confirmed by the Jax business at the relevant location, work will not be performed until lockdown restrictions issued by the States' Chief Health Officer (pursuant to their Emergency Powers) expire or are no longer in effect for the location of the booking. If the restrictions are extended or new restrictions are at anytime issued by the relevant State's Chief Health Officer (pursuant to their Emergency Powers) to commence on the date of your booking, JAX will make all reasonable attempts to contact you to extend this booking to another date anticipated to be outside of the restriction period, prior to cancellation.
JAX reserves the right to cancel this booking without notice and any refund will be provided pursuant to our refund policy.