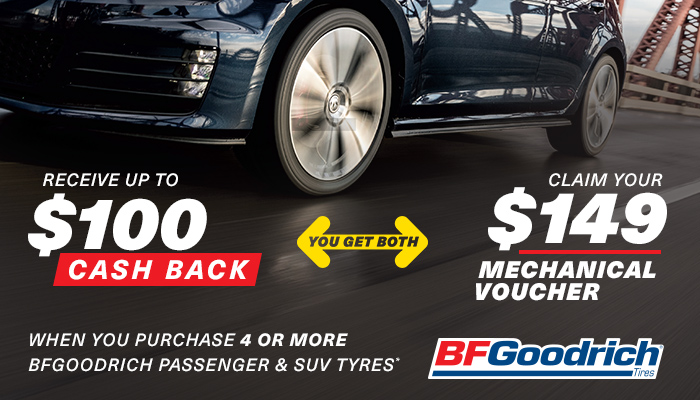 Receive up to $100 Cashback PLUS your FREE $149 Mechanical Voucher
Purchase 4 selected BFGoodrich tyres and receive both these great rewards during September.
Already made a qualifying purchase? Click here to claim your mechanical voucher.
Receive the following Cashback on your purchase:
For every 4 BFGoodrich T/A SUV or G-Force Sport Comp 2 sets, 4 BFGoodrich Advantage T/A Drive or 4 T/A Sport 18" or above tyre sets, receive $100 CASH BACK
For every 4 BFGoodrich Advantage T/A Drive, T/A Sport 17" or below tyre sets, receive $50 CASH BACK
You can also claim your FREE Mechanical Voucher valued at $149 via email to be supplied within 2 business days of your purchase. Your voucher can be used for any mechanical service work by the 15th October 2019.
Click here for the full range of BFGoodrich tyres.
Terms and Conditions
Offer for valid purchases from Sunday 1st September to Monday 30th September 2019 23.59 AEST.
The voucher can be claimed by 7th October and used by 15th October 2019.
Offer available on BFGoodrich Advantage T/A Drive, Advantage T/A SUV, Advantage T/A Sport and G-Force Sport Comp 2 tyres.
The value of the Mechanical Voucher can be used towards a mechanical service of a higher value than $149 if required.
Not available with any other offer.
All 4 BFGoodrich tyres must be shown on the same invoice.
Excludes fleet, government, wholesale, commercial and account purchases.