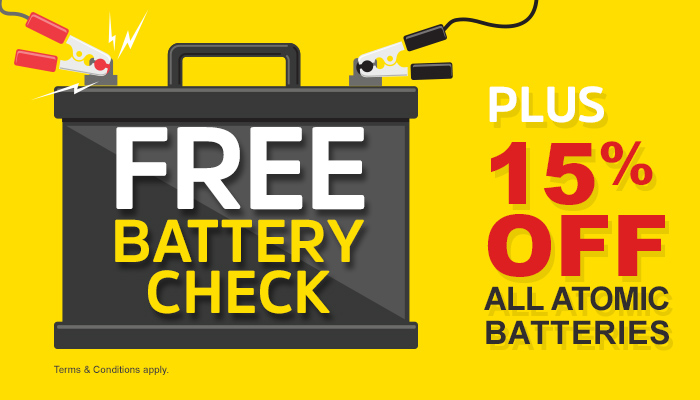 Get 15% OFF all Atomic Batteries + FREE Battery Check!
To avoid the chances of battery failure and keep you on the road with greater peace of mind, it's important to test your vehicle battery regularly - not just when it's showing signs of weakness.
JAX Tyres & Auto offers all customers a complimentary digital vehicle battery check which provides details on the health of your battery. Batteries can be tested in or out of the vehicle. We also test Deep Cycle & Heavy-Duty batteries FREE of charge.
To ensure that we can carry out the FREE JAX Battery Test when you come in-store, please book a free appointment at your nearest JAX Tyres & Auto store.
JAX Tyres & Auto are also offering 15% OFF all new Atomic batteries until the 31st of January 2021
For further details contact: 1300 367 897
Terms and Conditions
This offer is valid from 1st to 31st January 2021

15% OFF RRP Atomic Battery Price.

Free Battery Check is an item part of the FREE JAX Vehicle Inspection. (Inspection Report). The Inspection Report is limited to a visual inspection of a vehicle's alternator, battery, belts, brakes, drive line, engine, lights, suspension, underbody components and wipers.

This offer (Offer) is offered by, and available at, participating JAX Tyre & Auto franchisee stores (Participating Stores) of JAX Quickfit Franchising Systems Pty Ltd (JQFS). For a full list of Participating Stores, please visit: jaxtyres.com.au.